24 Hour Locksmith Coral Gables, FL
Lockout | Re-Key | Locksmith for cars
Accept Credit Cards

CORAL GABLES LOCKSMITH
The City of Coral Gables is home to some of Miami's most beautiful homes and aspiring businesses. It's no wonder that the city's official nickname is "The City Beautiful." It's also no surprise that Coral Gables' residents expect the best of the best when it comes to everything, including the services that are provided to them. So, when it comes time to call a locksmith in Coral Gables, who should they call? Miami Locksmith of course!
A good locksmith company employs only highly-trained and certified locksmith technicians, but a great locksmith company, like a Coral Gables Locksmith, goes a step further. Every locksmith on our staff is trained, certified, highly experienced, and very hospitable. It's not just about getting the work done with us. We want to make sure you feel safe, comfortable, and confident about inviting a locksmith onto your property to help you solve a problem, no matter what time of the day or what day of the week.
Many locksmith companies in the area claim that they can do it all for you, but when it comes down to it, you find that there's a lot they aren't willing to do. For instance, some Coral Gables locksmiths can do all the basics, re-key, make duplicate keys, repair and install standard locks… But at Miami Locksmith we can do much more and we can help you to provide specialists for each type of job. That means you can get experts at installing access control systems, experts at installing high security home locks, experts at creating restricted access locks, and much more.
Coral Gables Locksmith Services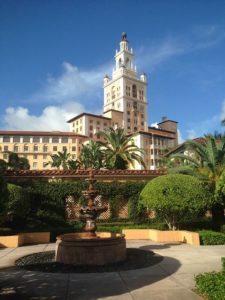 It doesn't matter where your locks are, we can fix them all! Whether you need a Coral Gables locksmith for your home, business, or car, we can do it all. If there's a lock on it, chances are, we can do something with it! We even work on all types of door hardware and lock-related systems, like keyless entry systems, exit devices, gate locks, mailbox locks, etc. Many of our customers are also surprised to find out about our extensive car locksmith services, like ignition repairs or replacement, computer chip reprogramming, and our ability to replace or repair key transponders.
If you've been looking for a good Coral Gables locksmith for a while now, but haven't felt confident about any of the companies you've spoken to, then we urge you to call us right away. From your very first contact with us, you'll find that we are friendly and helpful. Locksmith Miami technicians are always willing to answer your questions and will always do everything to make sure you feel safe and comfortable while they are performing the work. For affordable prices, fast services, quality work, and anytime availability, call us right away.